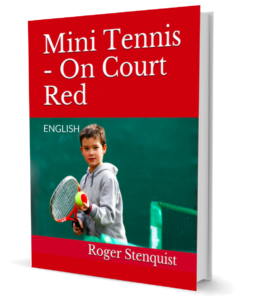 Do you as a tennis coach want to get a ready-to-go concept with 73 physical drills, 64 basic tennis drills with 3-12 variations of each drill, progressive development week by week over 2 years time and a red thread at Mini Tennis level? In that case, the book "Mini Tennis – On Court Red" may be the right book for you.
Background
This book is based on a concept from the International Tennis Federation, "Play and Stay" and "tennis 10s". This concept aims to simplify the tennis game for players during the first years. Previously, there were two steps to go, but with the new concept you have two further steps. The steps are now red (mini tennis), orange (midi tennis), green (maxi tennis) and yellow (regular ball). With the different colors comes different balls, different sizes of the rackets and different sizes of the tennis court. This makes it easier for the player to learn to serve, rally, and score very early.
This book focuses on red level (mini tennis).
Purpose
The purpose of this book is to make it easier for all tennis coaches who work with children of these ages. Through this book, the coach can systematically train their players step by step in order to get the player even more technically, physically and tactically developed.